Jack Walker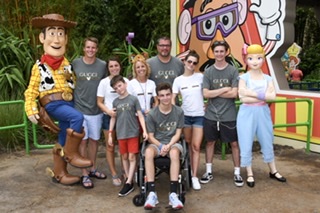 Email: jack@mtsrunn.org
Pastor Jack Walker has been the Senior Pastor of Mts. Runn since March of 2006. He served as a youth pastor at Calvary Baptist Church in Fort Walton Beach, Florida for thirteen years before accepting the call to serve as pastor. He has earned his Bachelor and Masters Degree from Faith Theological Bible Seminary.
Pastor Walker has a passion to see people grow in their personal walk with the Lord. He believes that the community will be affected once each individual personally grows closer to their Savior. Under his leadership, the church has seen personal growth in many individual lives and families.
He and his wife, Julie, have been married for 25 years and they have three sons (Justyn, Jacksyn, and Jaydyn) and two daughters (Jaymisyn and Jensyn). Pastor's hobbies include spending time with his family, Disney and photography.
James Bruhn,
Student Pastor
Email: james@mtsrunn.org
Pastor James Bruhn has been the Assistant/Student Pastor of Mts. Runn since July of 2010. He graduated from Trinity Baptist College in Jacksonville, Florida with a B.S. in Church Ministries with a Youth Ministries proficiency in 2007.
Pastor James desires that teens would grow in their walk with the Lord and learn that pleasing Him is all that really matters in this life. He and his wife strive together to impact the lives of each teenager. They share the same passion to see students live their life unashamed of Jesus Christ.
James and his wife, Becca, were married in 2007 and have one son (Braden) and one daughter (Addison). They both enjoy sports and have both become Indianapolis Colts fans!
Ben Paddock,
Marriage Pastor
Email: ben@mtsrunn.org
Pastor Ben Paddock began serving as the Assistant/Marriage Pastor of Mts. Runn Baptist Church in January of 2013. The Lord began a work on Ben Paddock and his wife, Kaija, about 9 years ago in Sunday School class while studying about marriage and family. They started pursuing how God would have them serve Him in their life. After attending a marriage conference, they felt lead to make a difference in marriages and families. They have volunteered with Family Life local ministries over the past 5 years and recently felt called to serve in the local ministry of Mts. Runn Baptist Church.
Both desire that married couples understand that their relationship with each other is about serving one another the way God has called them to rather than serving themselves. They strive together to encourage other couples towards oneness in the Lord. Together, they desire to see other couples search out God's will in their marriage and family.
Ben and his wife, Kaija, were married in 1997 and have three sons (Cade, Ashtyn, and Mekhi).